More impact for Australia's Giving Tuesday campaign
Posted on 05 Dec 2019
By Matthew Schulz, journalist, Our Community
A study of the recent Giving Tuesday campaign (December 3) has shown that more than half of participating organisations nationally tried new and innovative approaches to boost fundraising and donations – and a striking number recorded a spike in giving from new supporters.
Giving Tuesday, led for the first time in Australia by Our Community's giving arm GiveNow, involved more than 300 charities and not-for-profits in a one-day giving blitz
GiveNow backed the event pro bono with training, social media support, readymade materials, and a mainstream media campaign to lift the day's Australian profile.
Giving Tuesday is now a fundraising fixture in more than 60 countries, and part of its appeal is that no-one "owns" the global movement, which frees organisations to try new campaign methods. It's hoped that at least some of those same organisations were able to apply those methods to recent bushfire fundraising efforts, which have generated in excess of $100 million in donations.
GiveNow's aims in directing the campaign were to:
Make it simple to participate
Encourage new giving to support social causes, and more giving from existing supporters
Provide a freeform opportunity for people to create their own actions and initiatives
Help people feel good through the act of giving.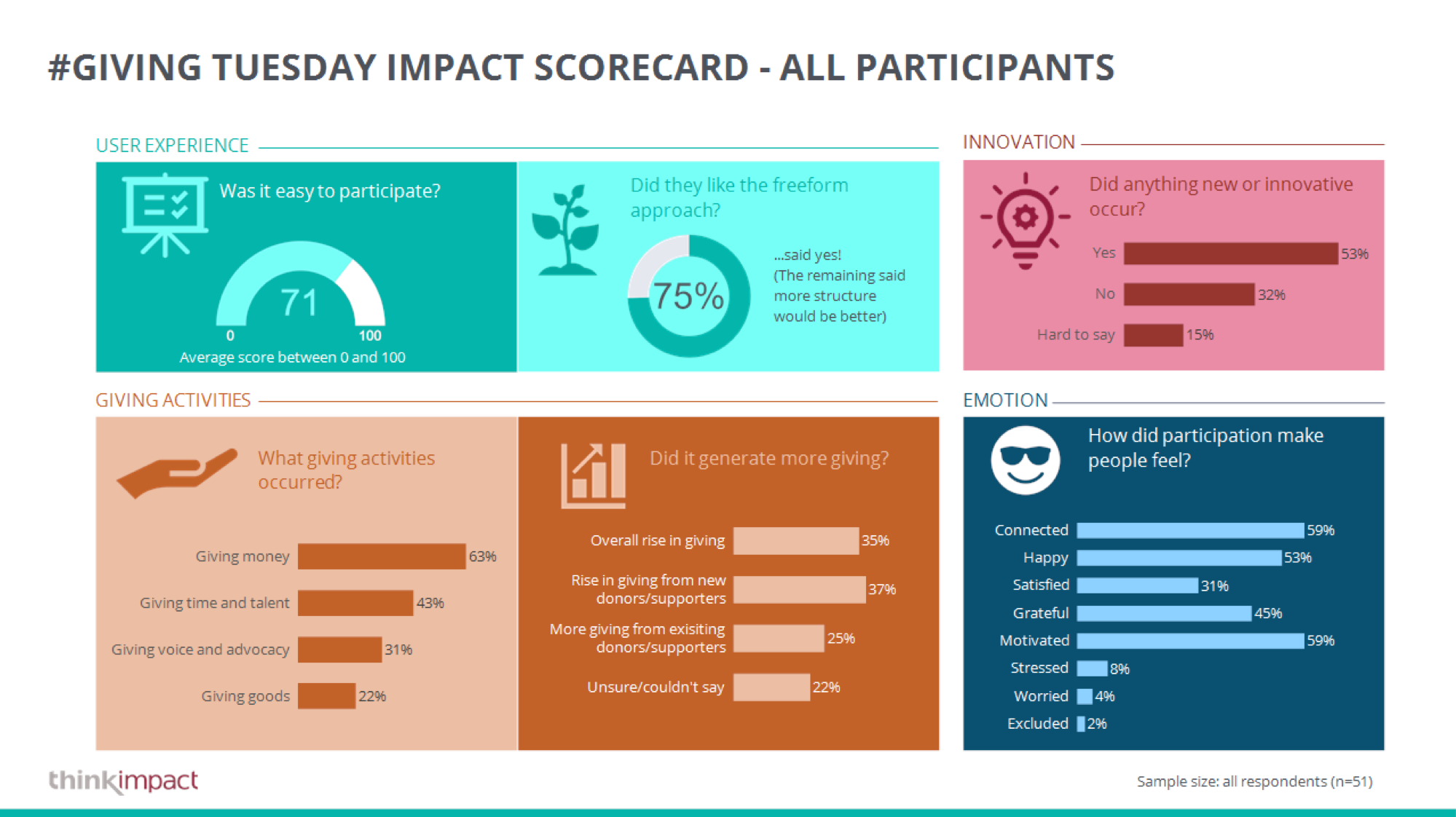 But did those methods work? Social impact measurement specialists Think Impact donated their time to design and analyse the results of a survey of 51 participants involved in Giving Tuesday.
Think Impact senior consultant and report author Alischa Ross said the report aimed to inform and improve the 2020 campaign.
"We hope this report provides an insight into the impact that taking part in the campaign created for organisations, businesses and individuals," Ms Ross said.
The study found:
Most participants (71%) found it simple to get involved
More than a third counted an overall rise in giving, with most of that coming from new supporters
While 63% of campaigns involved raising money, many organisations also got involved in giving time or talent (43%), giving voice or advocacy (31%), or giving goods (22%)
Three quarters of participants liked the "free form" campaign style
More than half of the participants felt "connected", "motivated" or "happy" about getting involved.
The study found differences between big and small organisations, with more of the bigger organisations relishing the chance to innovate and deploy the "free form" campaign to suit themselves.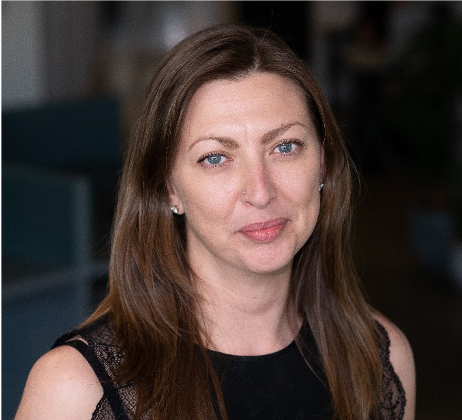 Big organisations also seemed to get more of a bump in overall fundraising, new supporters and giving from existing supporters. Not surprisingly, small organisations had more trouble gathering data on donation amounts but were able to show that during the campaign they enjoyed much higher rates of volunteering than usual.
One of the most interesting aspects of the day was the preparedness of many organisations to try new campaign techniques.
Many noted renewed insights into the power of social media to build community awareness, to engage their networks, and to test the effectiveness of their campaigning.
One survey respondent's comment summed up the experience of many organisations, including Give Now: "First time participating. We will use this learning experience to build a better campaign for next year."
GiveNow will use the results of this study and others to finetune the campaign and give more of the help that's needed by different groups and individuals as it ramps up involvement in Giving Tuesday 2020, this year on December 1.
GivingTuesday Australia's Alex McMillan said the report would allow the Australian team to adapt the campaign to better suit the needs of individuals and organisations wanting to be involved.
"We've already placed GivingTuesday firmly on the Australian community event calendar, but these findings will ensure the 2020 campaign delivers even better results."
Posted on 17 Oct 2017
Our Community's thinker-in-residence, Chris Borthwick, casts a close eye over the financial…
Read more
Posted on 15 Jul 2017
If you're a community group in financial trouble, you have to make a choice about publicity.
Read more